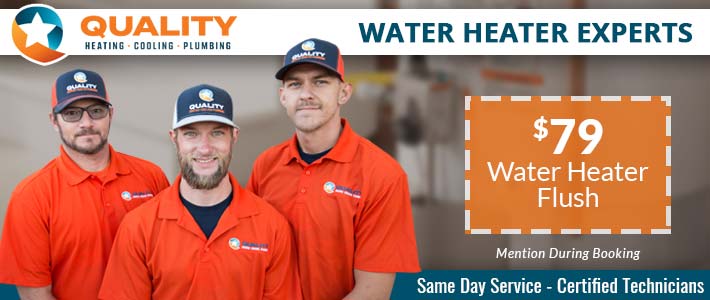 Offer Expires: 12/31/2023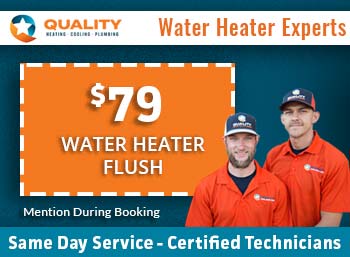 WATER HEATER EXPERTS IN 

sand springs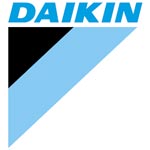 Hot water is a necessity! People use hot water for everything from doing the dishes to taking a relaxing shower, and even going one day without it presents a massive inconvenience. If you're having problems with your existing water heater—or you need to get a new one—don't try to deal with it alone.
Quality Heat & Air has a proven record of 5-star service. We hire only the best water heater technicians. We show up on time, and we make sure you get exactly what you need, whether from your current water heater or a new installation.
OUR SERVICES IN
sand springs

 INCLUDE:
Repair of all types of water heaters, no matter what model or year
Full-service installation of new water heaters
Diagnostic of current hot water needs & capactiy
WHAT ARE THE MOST COMMON WATER HEATER REPAIRS?
A faulty water heater can mean that you're getting water that isn't hot enough or no hot water at all. Either way, the result is inconvenience in the home and difficulty doing basic everyday tasks. Our certified plumbers have worked with just about every water heater problem possible the last 40 years & fixed them all. But there are some problems that our team sees again and again. Here are the most common:
Water isn't hot enough. This can be frustrating because you may put up with it for weeks or even months before deciding it needs to be fixed. Luckily it's usually a fast, easy fix. We see this a lot on traditional electric water heaters, which use a pair of electric heating elements to heat the tank. Often, one of the two burns out, resulting in water that's warm but not hot. We can replace it or diagnose the true problem if this isn't it.
No hot water at all. Depending on the unit, this could mean both of your heating elements burned out or it could have a variety of other causes. We can isolate the cause and get you back to steaming hot water in no time.
Erratic water heating/long waits for hot water. This can also have multiple causes, but we see it a lot on gas-heated water tanks. Ash and dirt can build up in the burner assembly, causing pilot light and burner problems—which reduces the efficiency of the whole unit. You can often tell this is the culprit if you're seeing higher energy bills even as your hot water capacity declines.
Leaking around the tank. This can be normal wear and tear of the hoses and lines involved in a water heater. It can also involve the pressure relief valve, which is supposed to let water out only if the internal temperature and pressure get too high. If this valve has worn out, it may be dumping water for no reason. We can find the problem and get your water heater leakproof in no time.
Not sure what's causing your problem? Call us. We can help you figure out the cause of your problem and decide whether you need a service call or not.
2 REASONS TO CONSIDERING A TANKLESS WATER HEATER
Energy savings. They dramatically reduce your water heating costs because there is no "tank" of water for the unit to continually heat and re-heat all day long. Instead, water is only heated when you actually turn on a hot water fixture.
Comfort. A tankless heater can reduce the "wait time" for hot water for your shower or any other use. It also means that you should never "run out" of hot water, because it is continually heated for as long as you leave hot water running. As long as your unit is the right capacity for the number of people in your home, that should mean no one ever has to settle for cold or lukewarm water again.
WE'LL HELP YOU MAKE AN INFORMED DECISION
Repair of faulty or non-performing units
Safe, fast, code-compliant installation of new units
We can assess the proper size, capacity, and placement of your tankless heater
TRUST THE PROFESSIONALS
Installing a water heater is not as simple as hooking up a couple of hoses. Water heaters need space to operate safely and an improperly installed unit can be a constant source of danger in your home. When you call in a licensed expert, you can be sure your unit is installed properly both for safety, optimum performance, and maximum energy savings.
We represent the highest-quality & most energy-efficient water heaters in the industry. We can help you find the perfect water heater for your usage & budget.
WE OPERATE BASED ON THE "GOLDEN RULE".
Quality Heat & Air was founded on a code of ethics based on the Golden Rule: "Do unto others as you would want others to do unto you." At our core, our company is just a family that takes care of other families all across sand springs. There are many reasons why sand springs residents continue to choose us time and time again, including all of the following:
Award-winning 24-hour emergency service
Trustworthy, trained, and certified technicians
Honest, upfront pricing
Amazing customer feedback
Flexible scheduling and the ease of service calls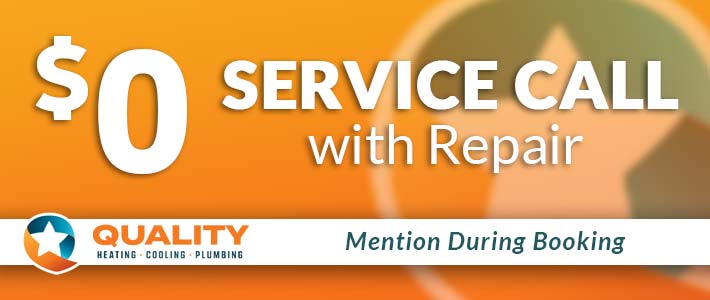 Offer Expires: 12/31/2023
SAME DAY SERVICE AVAILABLE
Call Your sand springs HVAC Experts Today!